Are you under pressure to put together the perfect school production?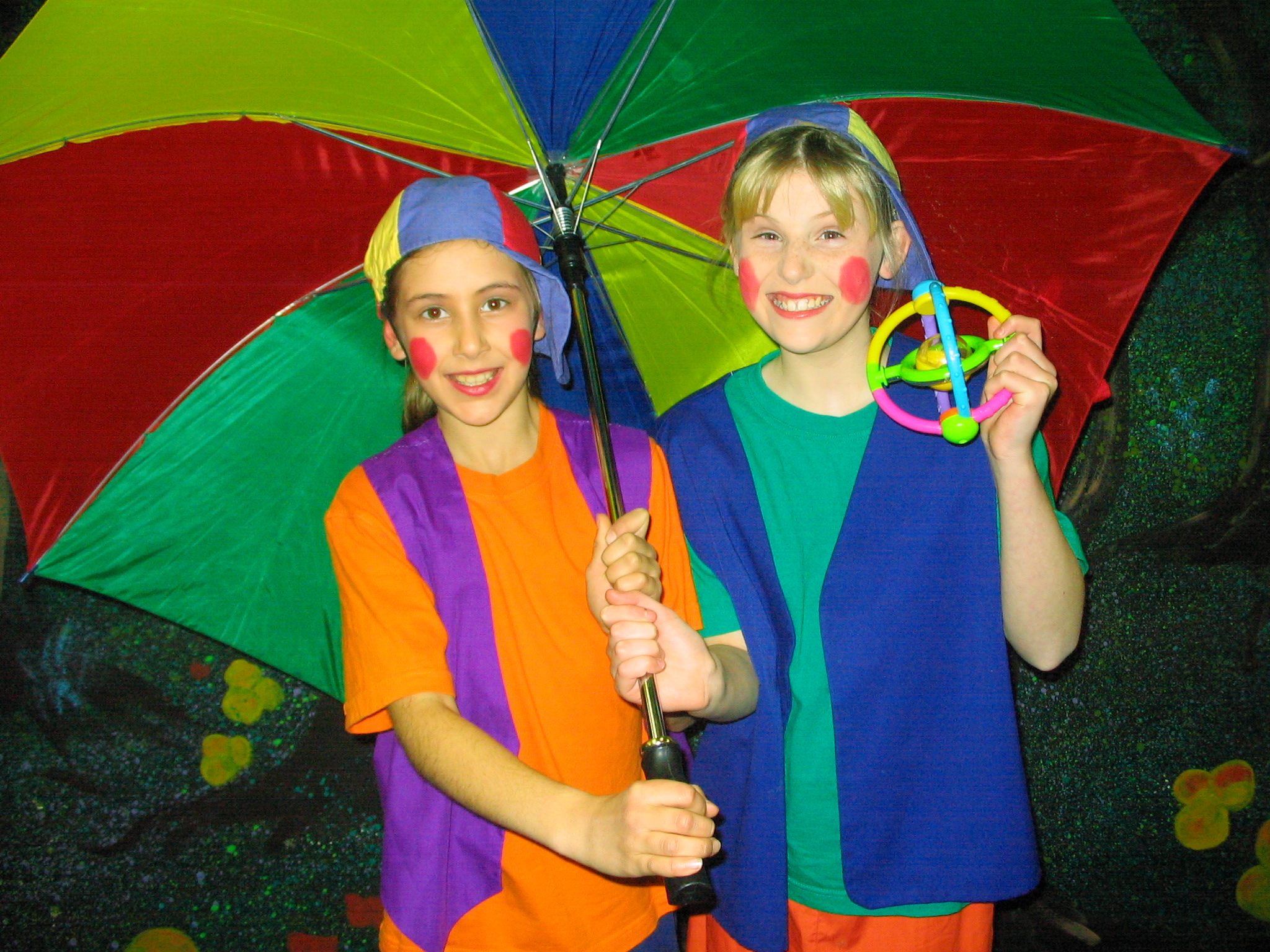 Are you tired of the same old scripts and music?
Are your students looking for
something modern and fun?
Our Scripts and Show hire options could be just what your looking for!
When you hire one of our shows, you will never look back. For 12 years now we have been producing quality musical entertainment for children and with children. So we know what we are talking about. Adlib shows are exciting, entertaining and can be easily staged for all budgets. There are 16 scripts to choose from. Because we write our own shows, they can also be adapted and custom written for your particular school.
IF YOU CHOOSE AN ADLIB SHOW YOU WILL RECEIVE
A Script that can be copied for all your cast members
A CD with vocal guides
A Full production CD with sound effects and scene change music.
Ongoing support from the writers. (A unique service).
WHAT SCHOOLS HAVE SAID ABOUT US
"I have been listening to and singing the songs all weekend … now I can't get them out of my head! Thanks heaps Donna for the script. As you said, I will have every child covered well and truly. By the way the kids LOVED the songs because they were not too high for them to sing and had great melodies". R.Riley,
"Peter Pan was the best show I've been involved with at this school. The students had a fantastic time. It was very rewarding but, at the same time, just plain fun. Peter and Donna from Adlib were great. They were very flexible with their songs and scripts. They were able to add characters, songs and dialogue to suit our needs and it was all at a very reasonable cost. We'll certainly use their scripts again. A big thank-you to Adlib." Peta Flanigan
This is an adaptation of the classic Lewis Carroll tale of a little girl's journey into her own wonderland.  It features favourite characters as The Mad Hatter, The March Hare, The white Rabbit and The Queen of Hearts. Alice Through The Looking Glass Alice Returns to Wonderland through her looking glass and finds the real Queen within herself as she plays a most a strange game of chess.  This show includes characters such as Tweedle Dee, Tweedle Dum, The White Knight, The White Queen, The Red Queen and a bunch of flowers with attitude. * Alice In Wonderland can be extended to include characters and music from "Looking Glass" Alice in Wonderland
Join Toad, Ratty, Badger and Moley as they enjoy riverbank life.  Fun is had by all as Toad sends them all on a wild ride.  This script has many small roles, including a fun bunch of weasels, and crazy courtroom characters. Adapted from the beautiful story by Kenneth Grahame, this show comes to life well with any aged cast. The Wind In The Willows
Join Peter Pan as he travels to Neverland on the wings of the imagination. This is a very popular show that never fails to be a success.  Characters include the legendary Hook, Smee, Tinkerbell, Wendy, lots of pirates and a bunch of mischievous lost boys Peter Pan
Wendy is now an adult and on the eve of her wedding is whisked off to Neverland for one last adventure by her old friend Peter Pan. It has been many years since Hook was chased away by the hungry Crocodile. But has he gone for good, or does he have one last trick up his sleeve? This show features favourite characters plus some great new ones, which include a group of fairies desperate to save the magic of Neverland. Hook's Return
You thought you knew the story of Cinderella? But did you know that her Fairy Godmother had an assistant, a dress designer and a security guard. This magical tale is guaranteed to live happily ever after. A very funny script which breaths new life to a classic tale. Cinderella
This show calls for a smaller cast, and is written in more traditional pantomime style. It features larger than life characters including Tim the salesman who will sell you anything from cleaning products to Saucepans to magic beans. This show is designed with lots of interaction. Jack And The Beanstalk
When a curse is place on the baby Princess Gwen by the evil Morgana, her three fairy Godmothers swing into action to save the day with a lot of pizzazz. As a professional hero her one true love Prince Marcus has a lot on his plate. Will he save the princess, kill the baddie and make sure that good will triumph over evil? And do it all before his 2.00pm meeting? Sleeping Beauty
Members of The Three Bears Blues Band have just woken up after a long winter and are hungry for a big breakfast.  Unfortunately their hapless housekeeper Mabel is only capable of making porridge and not very good porridge.  In another part of the woods Goldilocks has just left her birthday party to chase her newly adopted dog Pooch.  Leaving her friends holding the cake.  Will she turn to a life of breaking and entering and breaking again?  Will someone make a decent breakfast?  And how did Goldie's mother end up in a tree?  This show has lots of fun roles for young people and great dancing music. Goldilocks
This script has a witty twist to the old fairytale.  The children's father cannot sell his music and must move to the city to find work?  Forrest Chum, the keeper of the forest is about to lose his job for insulting the forest Song.  Mother Nature is not happy and sends her top fairies to deal with him.  Piper the witch is trying to set up a Tea Room/Café and can't get any good publicity. This show features a multitude of characters and different storylines all finishing up with a very happy conclusion. Hansel And Gretel
When the Arabian Newspaper Mogal, Gassin, tries to squash the small but thriving "Daily Scroll", a street urchin called Aladdin tries to help all he can.  But what is he able to do with just the clothes on his back and an old lamp?  Not much until he realises the lamp is magical and gives him three wishes.  As the genie appears, chaos follows.  Aladdin is thrown into the world of big business and true love.  And what does it have to do with the invention of the radio? Aladdin
Henry, the son of a poor farmer inherits the family cat. This downturn in his fortune suddenly takes a turn for the better when he realises that the cat, magically, has the gift of the gab. Puss is a masterful "Spin Doctor" and takes Henry on the ride of his life. A small principal cast with a big chorus opportunity. Puss 'n' Boots
A curse is placed on a selfish prince and has thrown his whole world into despair. Will a beautiful girl save him and break the curse with the help from a bunch of eccentric characters with a hearts of gold? This is special show with magical award winning songs. It is guaranteed to delight all those involved in its production and audiences alike. Beauty and the Beast
Pull out those green tights and head for Sherwood Forest. There is danger afoot as the Sheriff of Nottingham doubles the taxes yet again in a bid to take over the Kingdom. The Merry Men fight by day and at night they sing. And it is all in the "Friars" business plan. This is a fast paced show with many great characters. Robin Hood
When all the baddies is Storyland become tired of losing their stories, they combine all their magic and zap all the good characters to a strange limbo land. It takes the magic and imagination of a real child to being them all back together to save story books everywhere. This show is perfect for a school production with lots of familiar storybook characters good and bad including Snow White, Dorothy and the Big Bad Wolf.  This show has a great message about working together and using your imagination. Adventure In Storyland
This is the sequel to Adventure In Storyland. Following their return to Storyland, some of our characters can't find their way back to their own stories. With the help of Nat, (The Narrator of all Stories), Prince Marcus, Red Riding Hood and The Big Bad Wolf, are pitted against the ultimate baddie who is determined to destroy Storyland forever. Another Adventure In Storyland
Formal is a full two act teenage rock musical that has approximately 35 dialogue roles as well as chorus parts.  The show is set at the school Formal of a northern Victorian School.  It is the Centenary of the school and it is about to be closed.  But the spirits of the past students have other ideas and prove to the students of today, how important their teenage years were.  And that no matter when you were born, everyone is the same. Formal
Prices for basic script/backing track hire starting from $595.00 (+ gst) or by negotiation. Please call us on 0402 346 153 or email for any enquiries.